We're excited to add our first 4x4 CNC Router, the Shapeoko 5 Pro. The Shapeoko 5 Pro is available in three sizes, from 2x2 to 4x4.
This powerful and versatile machine is perfect for those seeking a compact yet high-performance router for their workshop. The 4x4 foot working area offers ample space for tackling large projects while maintaining a manageable footprint.
Are some of your projects bigger than what you can fit on a 4x4 CNC router? No problem, all of our CNC routers are capable of passing larger material through the work area so you can cut projects of any length.
The Shapeoko 5 Pro CNC Router boasts precision engineering and top-of-the-line components, ensuring unparalleled accuracy, speed, and durability. The router's user-friendly design and advanced software compatibility make it an excellent choice for both beginners and experienced operators. It's the ideal tool for woodworking, sign-making, plastic fabrication, and much more. It is, by far, the best value in CNC routers.
Elevate your production capabilities with this exceptional machine. Explore our 4x4 CNC Router Collection today and discover the perfect balance of power, versatility, and efficiency for your workshop.
Pass Larger Material Through the Machine
The Shapeoko 5 Pro is open from the front to the back, allowing you to pass material through the machine for cutting. This means you can cut parts of any length, as long as you can support the material on either side of the machine, including 4x8' plywood. See this in action on our Youtube channel.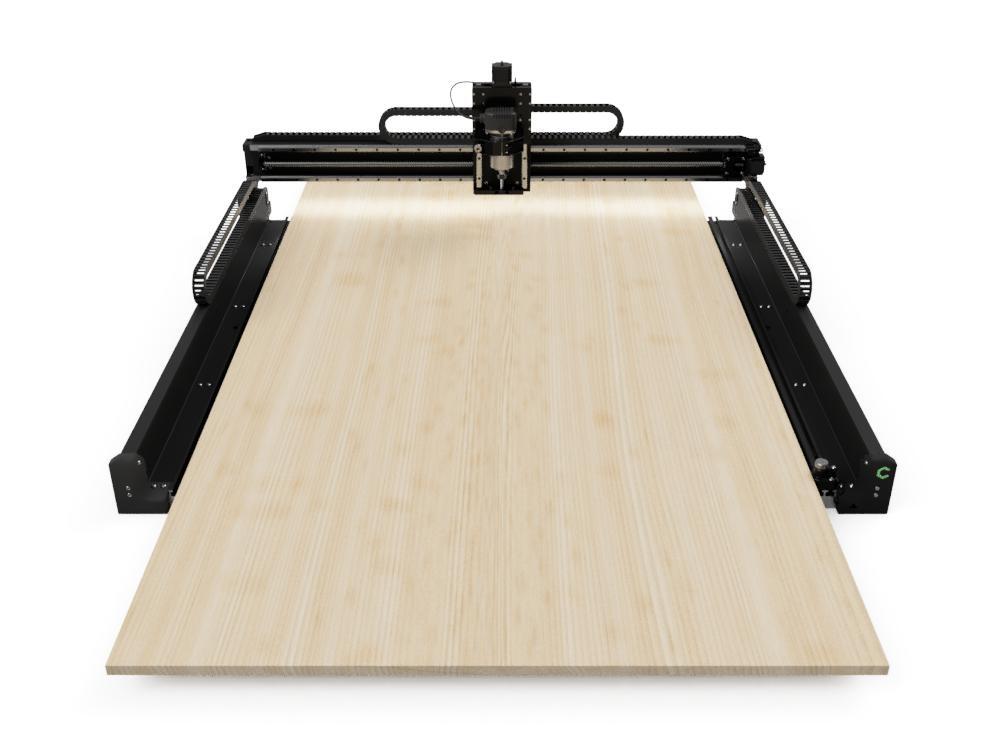 Shapeoko 5 Pro is a "True" 4x4 CNC Router?
Some companies are a little loose with the definition of "4 feet":
Does that mean the total travel is four feet?
Does that mean the work area is four feet?
Does that mean the machine can cut around a 4-foot part?
The Shapeoko 5 Pro 4x2 and 4x4 routers allow you to fit a full 4-foot wide part in the machine, with room for clamping on either side.
The X travel of the Shapeoko 5 Pro is just over 48 inches, so you can cut around a 4-foot part if you take the time to position it carefully.
Choose the Right Spindle for Your Needs
The Shapeoko 5 Pro uses our Carbide Compact Router, or our high-performance VFD Spindle.
The Carbide Compact Router is a great choice for those who are just getting started with CNC, or those who are looking for a low-cost option. The VFD Spindle is a great choice for users that want a quieter spindle with more power.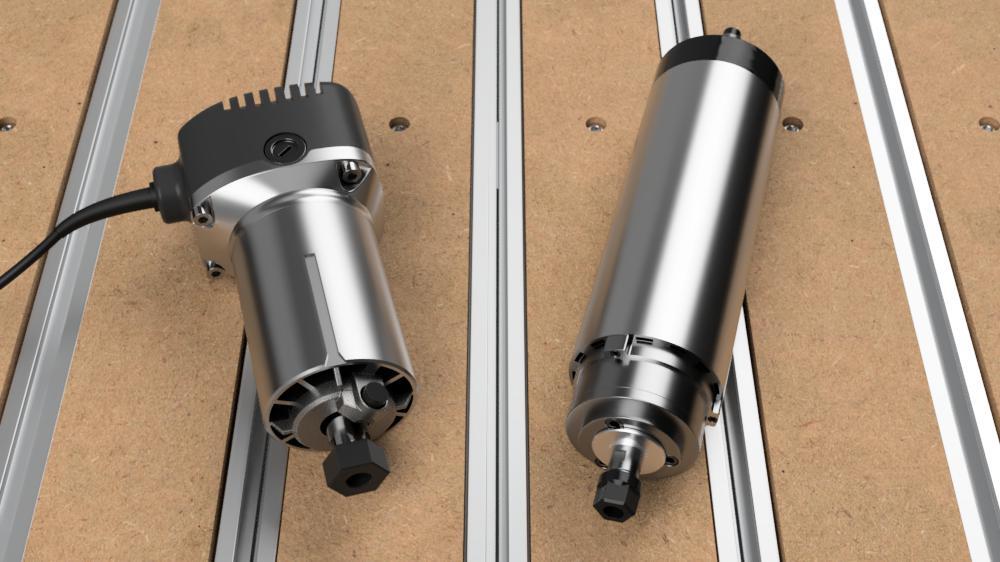 Can Shapeoko be the Best Value AND the Most Capable CNC Router? Yes, it can.
When it comes to Shapeoko, you don't have to choose between value and capability. Shapeoko is the most capable machine in its class BECAUSE it's the best value.
All of the things we include as standard equipment on Shapeoko are optional upgrades on other machines, and all of those things give you more capability for your projects.
Learn why Shapeoko is the Best Value in CNC Routers
Learn why Shapeoko is the Most Capable CNC Router
Why Buy from Carbide 3D?
Carbide 3D was founded by engineers and manufacturing people to make the CNC machines that we wanted. We've spent over 10 years making CNC machines that are easy to use, and easy to learn. We're here to help you get the most out of your CNC machine.
What we Offer
Warranties and Support - All of our machines come with at least a 1-year warranty. We have a US-based support team available to help you get started quickly and to help you get the most out of your CNC machine. Details here.
30-Days, Mistakes are on Us - For the first 30 days that you own your Carbide 3D machine, we'll cover any damage to your machine, or anything Carbide 3D-branded- even if it's your fault. We want you to get up and running without fear. Details here.
Training - Our machines come with four 1-on-1 training sessions with a member of our support team. Details can be found here.
Software - We include all of the software you need to get started at no additional cost.
Complete Machines - Our machines are the best value in CNC because they don't require big additional purchases to get started.